Free shipping on all continental U.S. orders $65 and up!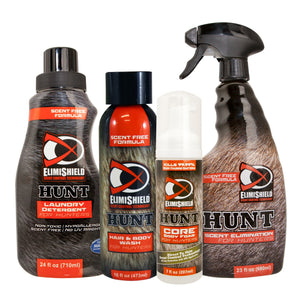 ElimiShield® Starter Kit
SAVE MONEY WITH THE ELIMISHIELD HUNT STARTER KIT COMBO +GET A FREE DECAL!
KIT INCLUDES:
1ea. 24 OUNCES UNSCENTED DETERGENT CONCENTRATE (GOOD FOR 24 LOADS)
1ea. 16 OUNCE HAIR & BODY WASH, UNSCENTED
1ea.  7 OUNCE CORE BODY FOAM
1ea. 23 OUNCE FIELD AND GEAR SPRAY, UNSCENTED
FIELD & GEAR SPRAY DESCRIPTION
ElimiShield® HUNT Scent Elimination Spray combines a unique, "ONE-TWO-PUNCH" approach to scent control for hunters. First, existing malodors are neutralized through six different chemical processes to render them into odorless salts. This action is rapid and complete. Second, human body odor is controlled before it exists for up to 60 days with only one application. This mechanism is superior to other methods that attempt to absorb human body odors AFTER they have already formed.
Bonds to all types of fabrics, rubber and other surfaces to provide long-lasting odor protection.
• Proprietary nanocoating controls odor-causing compounds.
• Protects materials from souring during storage and will not stain fabrics.
• Applied correctly, a single application can last for 60 days against organic odors such as human body odor.
• Use it everywhere odors are part of your activities – shoes, boots, gloves, base layers, hats harneses, outerwear, equipment case, and so much more.
• Can be used in conjunction with ozone technology.  Environmentally safe.
DIRECTIONS: Spray and completely saturate items BEFORE going into the field! This is a "dry" based application of Scent Control. Focusing on the inner facing side, spray your base layers and clothing after you have washed them in ElimiShield® HUNT Laundry Detergent and allow to air dry. Spray your equipment (bows, tree stands, ground blinds, etc. PRIOR to going in the field. Allow to air dry.
KEEP OUT OF REACH OF CHILDREN AND PETS. Avoid contact with eyes. Do not ingest. DIRECTIONS: Liberally spray every layer of underwear, athletic clothing, socks, gloves, hats and shoes. Spray inside and out. Best if applied in advance of activity and allowed to dry. Spray onto hard surface and gently wipe with clean paper towel to even out liquid. Be sure to leave surface wet. Allow to dry for 30 minutes. Keep out of direct sunlight until completely dried. Treat every 30 days. Avoid glass & mirrors. MSDS available online at BrysonUSA.com
CORE BODY FOAM DESCRIPTION
Kills 99.99% of germs including odor-causing bacteria & continues working to control odor long after application.
ElimiShield® HUNT Core Body Foam is a gentle but effective long term, full body deodorant.  It is safe for daily, direct to skin use. 
Applied correctly, CORE bonds to your outer layer of skin.  It is both sweat resistant and wash resistant.  It kills 99.99% of germs and odor-causing bacteria upon application and continues working to reduce odor long after application (24 - 96 hours) . 
Body odor is a deal breaker with big game.  Body odor is caused by bacteria feeding on dead skins cells.  Your body exfoliates 20,000 - 30,000 skins cells covered in odor causing bacteria every hour of every day.  Translation, you're dumping 150,000+ odor producing skins cells on your stand on each hunt.  When using CORE Body Foam, not only are you not producing body odor during your hunt, you're not leaving any of your human odor behind for deer to discover after you've left.  The difference you'll see is immediate and undeniable.
Core Body Foam is Alcohol Free and scent free.  It is non-transdermal and contains silk proteins to help moisturize skin. 
HOW TO APPLY:  (1) Immediately after taking a scent free shower and drying off, apply CORE Body Foam head to toe (Torso, scalp, back, torso, feet, legs, etc).  2. Allow to dry completely (Takes about 1-2 minutes).  3.  Put on your scent free hunting clothes and go hunt.
The 7oz size of ElimiShield® HUNT Core™ Body Foam is good for 16-20 full body applications.
HAIR AND BODY WASH DESCRIPTION
ElimiShield HUNT HAIR AND BODY WASH was specifically designed for both genders and all hair types of hunters while recognizing the need to be clean and scent free.
High quality formula will NOT damage color treated hair but is powerful enough to clean the dirtiest of areas! Removes odor and odor-causing compounds from skin, hair and nails.
Shower before entering the field each time if possible.
• Shower or wipe after each meal to avoid food odor contamination.
• Avoid spicy foods 24 hours before entering the field.
• Pay special attention to hair-covered body parts.
• Use only drying towels, wash cloths, underwear, etc. that were washed in ElimiShield HUNT Scent Free Laundry Detergent.
• Follow up with ElimiShield HUNT Core Body Foam for optimum scent control.
DIRECTIONS: Pour approximately dime-size amount into a wash cloth and bathe normally. Rinse thoroughly with water.
INGREDIENTS: Water, Sodium lauryl ether sulfate, Disodium laureth sulfosuccinate, Ammonium lauryl sulfate, Sodium trideceth sulfate, Sodium lauroamphoacetate, Cocamide MEA, Sodium laurimino dipropionate Sodium chloride, DMDM hydantoin.
DETERGENT CONCENTRATE DESCRIPTION
ElimiShield HUNT LAUNDRY DETERGENT is an advanced, highly-concentrated formulation (24 loads per bottle) that is specifically designed to remove blood, grease, grime and other stains encountered in tough hunting conditions, but gentle on your favorite camouflage patterns! Scent free, Phosphate free, HE compatible, No UV or optical brighteners. This formula is powerful so use as directed! More is NOT better in this case!
Spray CLEAN garments with ElimiShield HUNT Scent Control Spray before drying for long-lasting odor control
• Line dry recommended. If machine dried, be sure to clean lint traps and other areas that could be contaminated with fragrances from softeners and detergents.
• Store all garments and towels together in airtight, scent free bag or container.
• Coat the inside of storage bags or containers with ElimiShield HUNT Scent Control Spray for long lasting odor control.
DIRECTIONS: Pour 1/8 Cup (1 ounce) as directed by your machine instructions. Be sure to include Towels, Wash Cloths, Underwear etc. with your gear. Sufficient for High Efficiency and Standard Machines in all water temperatures.
KEEP OUT OF REACH OF CHILDREN AND PETS.In case of eye contact, flush with water for 15 minutes.If irritation persists, contact a physician. In case ofingestion, drink plenty of water and seek medicalattention or poison control. MSDS availableonline at BrysonUSA.com
---
We Also Recommend